IF YOU'RE AFTER CLEAR, PERSUASIVE AND EVOCATIVE COPY...
I have just the words you need.
Hi, I'm Andrew Baskott - a freelance copywriter who loves making words work to their full potential.
Clear, concise and persuasive words that bring character to your copy and content - to engage your audience and get you noticed for all the right reasons.
Your story is unique. You're not the same as everyone else. So, whatever your service, product, or vision might be, let me write the essential words
you
need. Your story. Your voice. My words. For brochures, web pages, taglines and much more besides.
Based in Northampton, I write for clients throughout the UK and beyond. Creating fresh, clear, and captivating copy that's worth reading. And I can craft just the same for you.
But don't just take my word for it...
Andrew writes with precision and great energy. He has a wealth of creative ideas that he can translate into copy that's persuasive, accurate and interesting to read. If you're after copy with character, charm and impact, Andrew is your man.
Lucy Van Biljon
, fellow freelance copywriter and a copywriting course tutor with the College of Media & Publishing.
WHO DO I WRITE FOR?
Practically anyone is the simple answer. I love words – they're my stock-in-trade – and everything about writing too. So I'm happy to write for pretty much any sector on any topic. Variety is the spice of life, after all. But I do have some
specialist copywriting niches
that are at the heart of what I do. They are...
Copywriting for anything connected with the GREAT OUTDOORS. I love exploring and writing about the outdoor world, so if the outdoors shapes what you do in any way, I can help you. The main areas I write for are outdoor clothing and equipment, places to visit, outdoor activities, nature conservation, farming and the environment. But if your sector's not shown - just ask! I write fresh, persuasive, and evocative copy. Copy that will have your readers itching to buy your products or use your services. Or maybe explore your world, or support your cause. Find out more.
Thank you so much, Andrew - this is great! You've really nailed the evocative copy we were after. And with so many options for taglines, we definitely have that part covered too.
Emma Mathias, Bradshaw Taylor - the home of top clothing brands for the great outdoors.
Copywriting for PROPERTY & INTERIORS. I write engaging copy with character for estate agents, interior designers, architects, builders, specialist crafts and bespoke furnishings and furniture makers. Whatever your sector. Whatever your specialism, whether it's modern, traditional, luxury or period design, my experience (especially writing high-end property brochures) delivers the essential words you need. Words to wow your readers, excite them, persuade, win hearts, build trust ... Find out more.
What can I say? Your words took me on a journey. I was fully engaged and absolutely love the writing style!
Toni-Ann Bird, Director, Guild House Estate Agents.
Copywriting for GARDEN SERVICES is another writing niche with an outdoor theme. I've written for garden designers and extensively on garden history/travel. Knowledge and writing expertise that comes in pretty handy for the world of gardening products and accessories too. I can help you with copywriting for brochures, product descriptions, web pages as well as case studies and more besides. Find out more.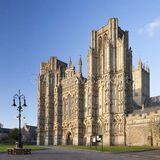 Copywriting for TRAVEL & HERITAGE TOURISM. Crafting inspiring words for inspiring places is an area where I have invaluable writing experience. Perhaps you need compelling copy for an advertising feature or a newsletter? Or maybe a case study or a complete website rewrite? Whatever it is you need writing, I'll find just the right words. Words to evoke a feeling. And entice your audience to buy, visit, explore, relax, discover. And more. In fact, your possibilities are almost endless. Find out more.
Copywriting for PHOTOGRAPHERS & PHOTOGRAPHIC SERVICES. Before entering the world of commercial writing, I worked as a pro freelance landscape and location photographer. Twenty years' professional photography experience makes me the ideal copywriter for photographers. Evocative words complementing evocative pictures. Writing too, for any services, products or accessories connected with the world of Photography. For websites, print and digital. Find out more.
...with such a complex message, clarity was essential. You have succeeded where we had struggled and the brochure and documents you've written are pitched perfectly.
Peter Tyler and Gordana Mandic, Directors, Tyler Mandic Ltd - Architects and Fine Builders, Chelsea.
When I first browsed Andrew's website, I knew he was the one I needed to rewrite mine. He writes captivating copy that just works!
John Dearden, John Dearden Engraving - luxury jewellery, watch and glassware engravers.
For captivating copy with just the right words, your project really couldn't be in safer hands. Whatever it is you do. Whatever you need to say. Like to discover more? Then take a look at my
copywriting services
.
Or perhaps find out a little more
about me
first.
And if you have any questions or would like a bespoke quotation then please
get in touch
. I'd love to hear from you.
FOR FRESH, CLEAR, EMOTIVE WRITING WITH CHARACTER AND IMPACT
All content and photography is © Andrew Baskott 2015-2021. All Rights Reserved | My

Terms & Conditions
.
Copywriting services for Northampton, Northamptonshire, the East Midlands and throughout the UK and beyond.