Creative Copy and Content With Just The Right Words
Fresh, clear and engaging writing that brings out the very best in all that you do. To set you apart. Make you shine.
Hi, I'm Andrew, a freelance Copywriter well-versed in the art of making words work. And a published editorial writer too. A writer of captivating words for businesses and organisations just like yours. Bringing you fresh, effective and engaging copy that your audience will love to read. To persuade, inspire, sell, inform, entertain ...
Whether for print, websites or something completely different.
Andrew writes with precision and great energy. He has a wealth of creative ideas that he can translate into copy that's persuasive, accurate and interesting to read. If you're after copy with character, charm and impact, Andrew is your man.
Lucy Van Biljon
, freelance Copywriter and copywriting tutor with the College of Media & Publishing
MY PROFESSIONAL COPYWRITING SERVICES
I love words – they're my stock-in-trade – and everything about writing too. And so I'm more than happy to write for pretty much any sector on any topic. But these are my
specialist copywriting niches
...
For PHOTOGRAPHERS & PHOTOGRAPHIC SERVICES - Before entering the world of Copywriting I worked as a freelance landscape and location photographer for 20 years'. First-hand experience that makes me the ideal Copywriter for professional photographers and for all services, products and accessories connected with Photography. For websites, print and more. Take a look at Copywriting Services to discover more.
Copywriting for PROPERTY & INTERIORS: Estate Agents, Developers, Interior Designers, Architects, Constructors, Retailers and Makers of furniture and furnishings. Whatever your sector. Whatever your specialism: modern, traditional, luxury or period design, my experience (especially writing for high-end properties) means I can write just the words you need. Copywriting for print brochures, websites, advertising features and case studies are just a few of the areas I can help you with. Take a look at Copywriting Services to discover more.
I love exploring the GREAT OUTDOORS, and writing about it too. So, if the outdoors is an important part of what you do, I'm the Copywriter you need. Here are just some of the areas I can write for: outdoor Clothing and Equipment, Places to visit, Activities and Conservation. Simply tell me what you need and I'll provide you with fresh, inspiring and evocative writing. Writing that can transport your readers to wherever you would like them to be. Using your products. Or your service. Exploring your world. Supporting your cause. Take a look at Copywriting Services to discover more.
In keeping with the outdoor theme, Copywriting for GARDEN SERVICES is another niche. I've written for Garden Designers and extensively on Gardens to Visit. My writing knowledge will also come in pretty useful for the world of Gardening products and accessories. Take a look at Copywriting Services to discover more.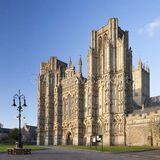 TRAVEL & HERITAGE TOURISM content writing is another area where I have valuable writing experience. Especially for the heritage/history travel sector. So, whether you're in need of engaging and evocative copy for an advertising feature or historic city guide. Interpretation displays, or a new website perhaps, I'll find just the right words you need. Words that can transport your readers: to explore, relax, discover ... Take a look at Copywriting Services to discover more.
Finally, these are some additional areas I can write for:
LEISURE, LIFESTYLE
and
WELLBEING
, plus
AGRICULTURE, HORTICULTURE
and the
ENVIRONMENT
What can I say? Your words took me on a journey. I was fully engaged and absolutely loved the writing style!
Toni-Ann Bird, Director, Guild House Estate Agents
A LITTLE BIT ABOUT ME
Before asking me to write anything for you, you'll naturally want to know a little more
about me
. Well, in brief...
• I have a Level 4 Diploma (with Distinction) in Copywriting.
• I've written for a diverse range of projects. Including for Estate Agents, Garden Designers, Cyber-Security specialists, Fitness providers, Menswear hire and Canal Boat Leisure trips.
• And I'm a published writer of illustrated articles and features too, with just over 30 pieces to my name so far.
Great work, Andrew! The additional content you've written for us is brilliant.
Abner Almeida, Director, MimeSURE Ltd
What do you need writing?
An amazing ad? A brilliant brochure? A winning website perhaps? Or something else altogether? Whatever your sector; whatever your product or service, the words I write will be as individual as you. Fresh, engaging and compelling copy to set you apart. And make you shine.
So you see, your project really couldn't be in safer hands. Whatever it is you need to say.
Interested? Then find out more about my
Copywriting services
. And if you have some questions to ask or you're itching to get your project underway and would like a bespoke quotation, then please
get in touch
, I'd love to hear from you.
CLEAR, EVOCATIVE WRITING WITH CHARACTER AND IMPACT
All content and photography © Andrew Baskott 2015-2020. All Rights Reserved | My

Terms & Conditions