BRINGING PLACES, SPACES, PRODUCTS AND SERVICES TO LIFE...
Because with just the right words, you can do brilliant things. You can tell your story. Paint a picture, inspire and sell dreams. You can persuade, entertain and inform. Evoke a thought or a feeling, build trust, and even change minds. Oh, and you can rank higher on search engines, too.
But trying to craft the perfect words yourself can be frustratingly difficult. After all, not everyone is a copywriter.
So if you're lacking the time, in-house expertise or perhaps simply the inclination to write copy that's enticing and effective, you can relax because that's where I come in.
I'm Andrew - an experienced and professionally qualified freelance copywriter. A writer who'll bring
your
world to life with copy people will actually want to read. Writing that captures your audience's interest. Takes them on a journey, perhaps. Stirs their imagination. And maybe their emotions, too.
Because once your copy engages and resonates with your ideal audience, the more receptive they'll be to your message. Whether it's in print or as SEO-friendly content for your website. All of which can help...
• Set you apart from your competitors
• Bring you more and better clients who see and appreciate the value you offer
• Build new connections and relationships
• Strengthen your bond with those who already know and love what you do
But whatever your aim, leaving the words to me means you can focus on the stuff you actually enjoy doing.
Just think, no more struggling to write your own copy in-house. No more being stuck for time, words or inspiration. Instead, I'll bring you friendly, characterful copy that's:
• Carefully crafted for your ideal audience
• Clear and persuasive
• Always engaging, and
• Never dull
Your story is unique. You're not the same as everyone else. So let me bring
your
world to life with some carefully crafted words. I'm a Northampton-based copywriter who writes enticing copy for brilliant brands throughout the UK.
Fancy joining them?
What can I say? Your words took me on a journey. I was fully engaged and absolutely loved the writing style!
Toni-Ann Bird, Director, Guild House Estate Agents.
THESE ARE MY NICHES, BUT I'LL HAPPILY WRITE FOR ALMOST ANY SECTOR
While I always welcome the chance to write about something completely different, these five niches are at the heart of what I do. Each stems from a professional
background
that's a little different from that of most copywriters.
Copywriting for anything connected with the GREAT OUTDOORS. So, if what you do is remotely outdoorsy, I can help you - especially writing for areas such as

outdoor clothing

and equipment, places to visit, outdoor lifestyle, activities, nature conservation, the environment, sustainability and bio-diversity. I write persuasive, and evocative copy that will have your readers itching to take the next step. Whether that's to buy your gear, hire your services, explore somewhere new, sign-up, donate, volunteer ...
From advertorials to websites, here's how I can help you.
Thank you so much, Andrew - this is great! You've really nailed the

evocative copy

we're after. And with so many options for taglines, we definitely have that part covered too.
Emma Mathias, Bradshaw Taylor - the home of luxury outdoor clothing and country lifestyle brands.
Copywriting for PROPERTY & INTERIORS - modern, traditional, luxury and period designs. I write engaging copy with character for estate agents, designers, architects, builders and property developers. As well as for specialist crafts and makers of bespoke furniture and fittings. Whatever your sector. Whatever your specialism, my experience (especially writing high-end property brochures) delivers the essential words you need. Words to wow your customers, excite them, persuade, win hearts, build trust ...
From advertorials to websites, here's how I can help you.
...with such a complex message, clarity was essential. You have succeeded where we had struggled and the brochure and documents you've written are pitched perfectly.
Peter Tyler and Gordana Mandic, Directors, Tyler Mandic Ltd - Architects and Fine Builders, Chelsea.
Copywriting for GARDEN SERVICES is another writing niche with an outdoor theme. I've written for garden designers and landscapers. And extensively about garden history and tourism. Expertise that comes in pretty handy when writing about gardens to visit. Knowledge that also extends to the world of gardening services, products and accessories. From garden furniture makers to tree surgeons. I can help you with copywriting for brochures, product descriptions, web pages as well as case studies and more besides.
From advertorials to websites, here's how I can help you.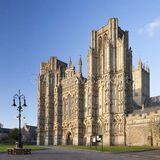 Copywriting for the TRAVEL & HERITAGE TOURISM sectors. Crafting inspiring words for inspiring places is something I love doing, with experience in heritage attractions and gardens to visit in particular. Perhaps you need compelling copy for an advertising feature or an SEO-friendly article? Or maybe a brochure or a new website? From boutique hotels to glamping sites. Landscape photography holidays to historic city destinations and more besides, I'll find just the words you need. Words to stir the imagination and inspire your audience to visit, explore, discover more...
From advertorials to websites, here's how I can help you.
Copywriting for PHOTOGRAPHERS & PHOTOGRAPHIC SERVICES. Before entering the world of commercial writing, I worked as a pro freelance landscape and location photographer. With twenty years' professional photography experience, I'm the natural choice when it comes to writing for photographer websites and photography tours and workshops. It means I can also write for photographic studios and services, and anyone connected with the world of camera gear, products and accessories.
From advertorials to websites, here's how I can help you.
As a freelance copywriter, I get the chance to write about all kinds of things. And that's what makes my job so enjoyable. Recently I've been asked to write about high-end listed property renovations, hand-engraved jewellery, and outdoor adventures. Here are just a few of my favourite
projects
.
When I first browsed Andrew's website, I knew he was the copywriter I needed to rewrite mine. He writes captivating copy that just works. For humans and Google!
John Dearden, John Dearden Engraving - luxury jewellery, watch and glassware engravers.
COPYWRITING FOR WHEN YOU NEED JUST THE RIGHT WORDS
All content and photography is © Andrew Baskott 2015-2022. All Rights Reserved | These are my

Terms & Conditions
.
The best copywriting services for Northampton, Northamptonshire, Leicestershire, Warwickshire and across the UK.