Copywriting Services
Your guide to my freelance Copywriting Services and Rates for 2020. For creative copy and content with just the right words it's all you need to know.

MY COPYWRITING SERVICES FOR PRINT AND WEB PAGES
Achieving your goals through the power of words
Copywriting: it's all about the words. The right ones used in the best possible way. Done well and the result is attention-grabbing writing that has the power to bring a little oomph and pizzazz to any message.
Which is where I can help you.
WHO CAN I WRITE FOR?
I love writing and so can write on pretty much any subject. So no matter what sector you're in, whatever your product or service, I'll write just the words you need. As you've probably already seen, I also have a few
specialist copywriting niches
. In case you missed them, they are...
• Photography: Photographers
|
Photographic Services
|
Photography products and accessories
• Property & Interiors: Modern, Traditional, Luxury, Period and Heritage
|
Interior Design and products
• the Great Outdoors: Outdoor wear and equipment
|
Outdoor activities
|
Places to go
|
Nature Conservation
• Garden Services: Designers
|
Gardening products and services
|
Gardens to visit
• UK Travel
|
Heritage tourism
• Leisure
|
Lifestyle
|
Wellbeing
• Agricultural Services
|
Horticultural Services
|
Environmental Services
BUT IT'S NOT JUST THE OUTDOORS I WRITE ABOUT
You might think my copywriting niches tend to have a bit of an outdoor theme, but that doesn't mean I can't write about anything else.
For example,
high-end properties and their interiors
are something I regularly write for. Here, I craft the content for multi-page marketing brochures, each written very differently from your usual estate agent blurb. Something my client insisted on in their brief - although how I achieved it was up to me. As a result, these are assignments that I thoroughly enjoy because writing to hook an emotion is a style I love using. One that has many possibilities.
As different again are the web pages I've written on
cyber-security, business resilience
and
archiving
. Three very diverse subjects that are about as far removed from the great outdoors as you can possibly get!
So,
get in touch
and tell me about the words you need. Whatever it is you do.
What can I say? Your words took me on a journey. I was fully engaged and absolutely loved the writing style!
Toni-Ann Bird, Director, Guild House Estate Agents
WHAT DO YOU NEED YOUR COPY FOR?
Whatever it is you do, wherever you're based, I can write just the words you need for any of the following:
| | | |
| --- | --- | --- |
| Advertising copy for Print & Digital | Advertising Features/Advertorials | Articles & Features |
| Brochures, Leaflets, Cards, Posters etc. | Case Studies | Newsletter copy |
| Press Releases | Product Descriptions | Sales Letters |
| SEO & SEO Articles | Taglines, Straplines & Slogans | Website copy |
And if you're looking for something not shown, then please let me know for I may still be able to help you. Or at least suggest another Copywriter who might.
My other closely related services:
COPY-EDITING
This is where I can add a little polish to the words you've already written. To make your words really shine. Whether it's for your website or printed material, I can check that what you've written makes sense. That it's clear and concise throughout and provide you with advice where it isn't. Or, if it only a small section or two, I can re-write the text for you. I'll also check for any errors in spelling or grammar, and correct them for you.
I may also shuffle your own sentence/paragraph order around a little to improve flow or emphasis. Since, to slightly rephrase a line by the late, great Eric Morecambe, you might be...
"Using all the right words, but not necessarily in the best order."
And finally, I may be able to offer you some suggestions for extra details you may wish to add. Because sometimes someone with an 'outsider's' perspective can spot where more information might be helpful for your prospective audience.
PICTURE SOURCING AND RESEARCH FOR COPYWRITING PROJECTS
With 20 years' spent working as a professional freelance landscape and location photographer, I know a thing or two about the art of photography. Especially what makes a picture work.
So, If you need a specific image or images to accompany the copy I've written for you, or simply want some advice on how best to use some already chosen images, then I can help you make the right choice. I can source pictures (and illustrations) from a variety of online libraries as well as from my own extensive collection of images. You can find out more from my
stock photography
page.
Finally, something important you'll want to know!
How much does great copywriting cost?
At this point you're probably wondering 'What does a diploma qualified freelance Copywriter charge?' You'll find many copywriters are a bit shy about showing you their fees. But I think it's best to try and provide as much information up-front as possible.
That said, unfortunately, there are far too many assignment variations for me to provide a fixed price list, but I can at least give you a rough guide to my
freelance copywriting rates for 2020
.
Great work, Andrew! The additional content you've written for us is brilliant.
Abner Almeida, Director, MimeSURE Ltd - specialists in cyber-security and business resilience.
FRESH, CLEAR, EVOCATIVE WRITING WITH CHARACTER AND IMPACT
I can write for you wherever you're based. Whether that's here in Northampton, in Northamptonshire, the East Midlands and anywhere else in the UK and around the world.
My copywriting Terms and Conditions
will apply to all assignments.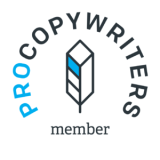 © Andrew Baskott 2020. All Rights Reserved.